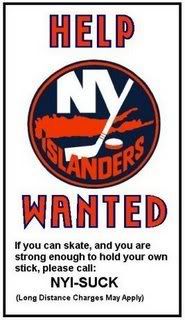 The bottom line is, the Islanders suck. They are absolutely awful. They have now lost 9 games in a row. They have yet to win in December. Their last win was on November 29. However, if you turn on your TV and wonder, why are there actually fans sitting in Nassau Coliseum, you are not alone.
I decided to come up with the top 10 reasons to still attend an Islanders game despite the fact they are awful:
10. Since the AFL season has been suspended in 2009, this is your only chance to go to Nassau Coliseum.
9. Soon, this old piece of junk will be gone. You might as well go ONE last time. But not more than that ONE last time.
8. You are from some random foreign country and you have never heard of hockey before until your American host family gave you Islander tickets so you did not know who they were and you did not know they sucked.
7. You have been in a coma since the 70's and when you woke up you thought they were still good.
6. You don't have MSG, MSG 2, or MSG + (even though this is probably a good thing)
5. It has been a while since you got some action and the next best thing is the Ice Girls
4. You think it is actually impossible for a hockey team to lose 9 games in a row and you think the media is deceiving you. You need to see a team this bad in person to actually believe it.
3. A member of your family is one of the referees and you want to go out to see him.
2. You work at Nassau Coliseum
1. You are a fan of the opposing team.
These are the only reasons to continue to attend games. I do not care if you are a die hard fan, I do not care if you get free tickets, I do not care if you are sitting in what you consider to be the best seats. The Islanders do not deserve to have you there!
Mark Elliot Wishnia
SportsTalkNY Blog Team
See
SPORTSTALKNY every Wednesday night live from 9 PM to 11 PM est at
www.sportstalknylive.com. Check out past shows on the archive page and
download all past interviews in the itunes store keyword
"sportstalknypodcasts "